Picture Gallery
Most of these paintings are oils on canvas
unless stated otherwise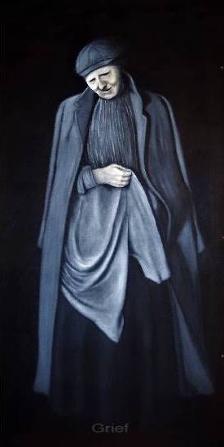 Grief
( Senghenydd Mining Disaster 14th October 1913 439 miners died)
Oils on Hessian
Senghenydd Heritage Centre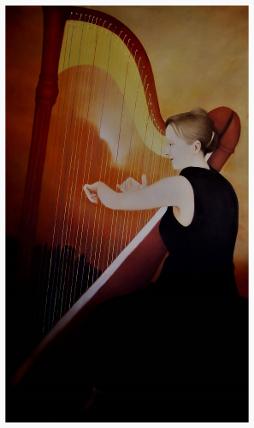 Departed
Based on the poem of the same name by
Grahame Davies
Home of the poet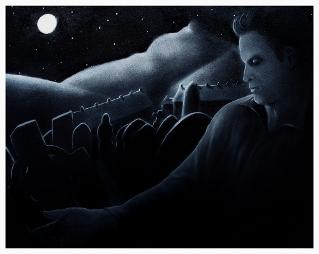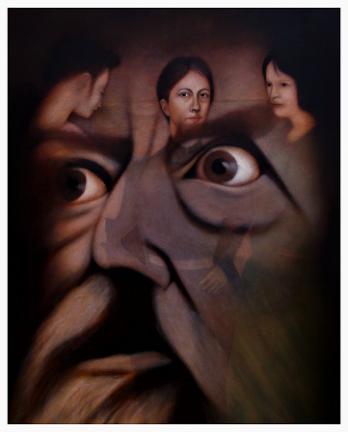 Augustus John
Tenby Museum & Art Gallery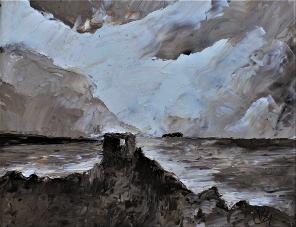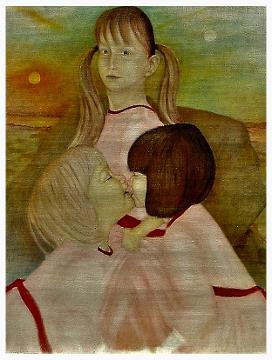 Birds of Rhiannon
( Farrah, Dion & Jade)
Oils on Hessian backed carpet
Newport Central Library
Closing Cwm
Oils on Hessian
Memorial Hall Newbridge
Painted to Commemorate the Death of 268 men & boys who died at the
Prince of Wales Colliery Mining Disaster of September 11 in 1878 at Abercarn
Memorial Hall Newbridge
'Poverty is the Worst Form of Violence'
( Mahatma Gandhi )
(Study for the disaster painting above)
Seeds of Time
Based from my poem of the same name
Clowns

Why do clowns look so happy?
When they are so sad,
Why do they dance and laugh,
When they could break down and cry,
When you see a clown,
You see a show,
You never look under the makeup,
Look into their eyes and wonder.
Clowns do have hearts,
Sometimes that heart breaks,
So don't go by the act,
Study a clown,
Make up your own mind.
By Lesa Guy
Clown
(Pencil & Gouache on paper)
Reflection
( Nature Fighting Back )
( Oils on wood & Watercolour Fabric Paint on Cotton )
Jazz 1
(With Billie Holiday)
Jazz 2
(With Duke Ellington)
Jazz 4
( With Dizzie Gillespi)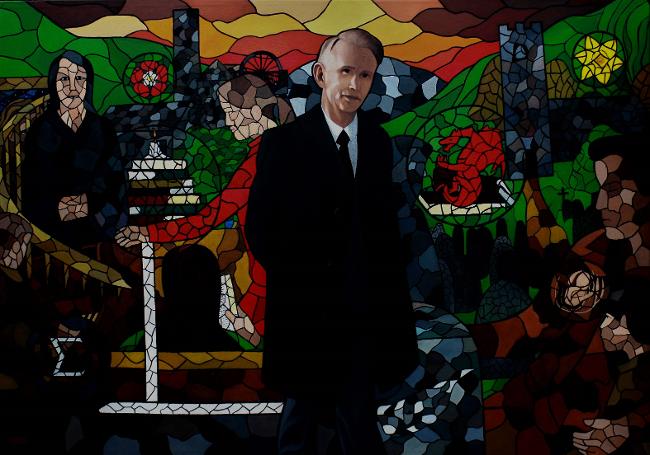 ' Lightening Beneath the Sea '
Based on the book of poems ' Lightening Beneath the Sea' by Grahame Davies
Roar Theatre Merthyr Tydfil
Old Slate Quarry North Wales
Welsh Valley Village at Night
Dance to the Fiddlers Tune
Farrah, Dion & Jade
Chepstow Community Hospital
Underground Trapper
Six year old girl working in the mines in the 19th century
Enamel paints on canvas
Memorial Hall Newbridge
'Who are we'
Farrah & Dion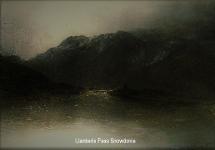 Coal Haulier
Eleven year old boy hauling coal underground in the 19th century
Memorial Hall Newbridge
Saunders Lewis At Capel Celyn
Theatr Twm o'r Nant Denbigh North Wales
Philip Madoc
Family Home London
H M Stanley
Stanley Museum Denbigh N wales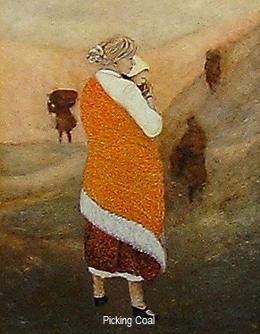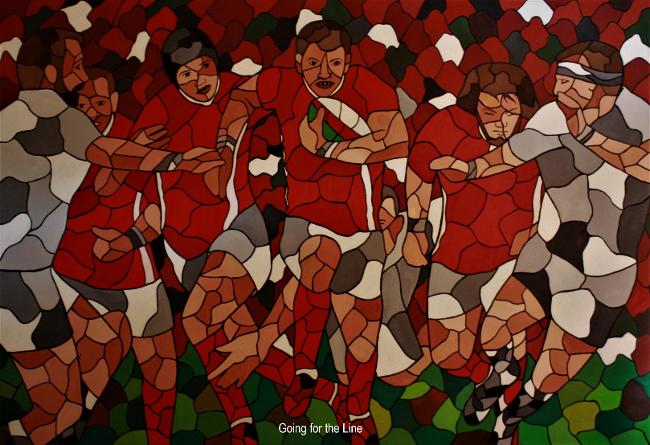 'Going for the Line'
Ward T5 (Fifth Floor) University Hospital of Wales Cardiff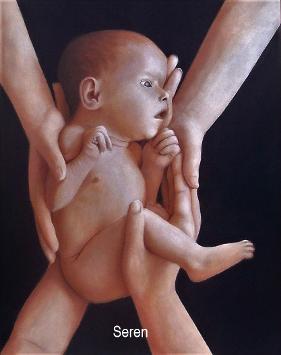 Marilyn Monroe
Pencil & Gouache
Three Faces
(Study for a larger painting)
Pencil & Gouache on Paper
Mari Llwyd
Newport Central Library
St Gowans Chapel
West Wales
Llanberis Pass
Snowdonia
Oils on plyboard
Hope
Tabernacle Church Newbridge