The Seeds of Time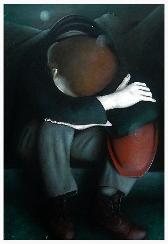 I'm what you would call a reluctant painter, one who has somehow managed to have paintings on display all over Wales. However, I don't just place them anywhere, instead I search for homes that are either close to the subject matter of the painting involved, or has some emotional relationship to that area.
Dylan Thomas and Vernon Watkins in Swansea. Anthony Hopkins, Richard Burton in Port Talbot. R S Thomas, Saunders Lewis, Kate Roberts and four others in Denbigh. Another based on Rhys and Meiner, an old Welsh folklore tale hanging in the Welsh Language Centre on the Lyn Peninsula. Elaine Morgan in Pontypridd. Philip Madoc , Gwyn Alf Williams and the poet Grahame Davies in Merthyr, There's three paintings in the central library Newport and one of Augustus John in the Tenby Museum and Art Gallery. There's also a painting that depicts my interpretation of the Prince of Wales Mining Disaster in Abercarn along with three other mining paintings in the Memorial Hall Newbridge. One in the Senghenydd Heritage Centre that represents the Senghenydd Mining Disaster, another in the Community Hospital in Chepstow. As well as those above there are others hanging in the homes of friends and acquaintances that are scattered round Wales.
I've held exhibitions for charity, painted murals in schools, on housing estates, completed portraits for a children's charity and given Art lessons to those who suffer from some problems with their mental health. I've also taught Art to drug addicts and alcoholics on parole, to try to help them cope with their lives after prison, given talks on Art and also opened Art Society Exhibitions.
A foster carer for nearly thirty years, and a volunteer who has worked for various charitable causes over a long period, I can sincerely say that my main creative inspiration comes from the satisfaction I get from those that need help.
Finally I'd like to mention that I've been a volunteer for Age Cymru Gwent for just under four years, visiting the aged in their homes to make sure they're okay. The reason for mentioning this is to say that if you want to do something worthwhile then come and join us, because Age Cymru can never have too many volunteers.

Anyway, that's all from me, all I can add now is to ask you to take a look at the paintings in the Picture Gallery, please take the time to do so because like them or not it doesn't cost you a thing.